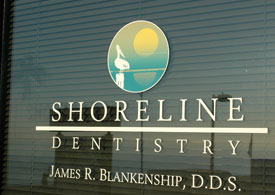 Thank you for visiting us at Shoreline Family Dentistry. If you're looking for a Galveston Dentist, we hope we provide you with enough information for you to feel comfortable visiting us.
If you have any questions regarding our office, staff, or the services we provide, feel free to call us at 409-762-4488. It's our goal to make dentistry as comfortable as possible for you and your loved ones. We appreciate you being here and are looking forward to serving your dental needs.
---
Our Dentist:
Dr. James Blankenship, DDS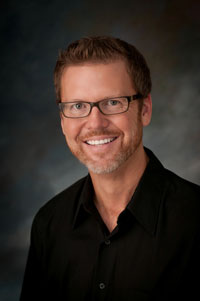 A graduate of Lamar University, Dr. James Blankenship was born and raised in the Nederland/Beaumont area. Upon receiving his doctorate from the University of Texas Dental Branch in Houston in 1993, Dr. Blankenship practiced dentistry at Mainland Dental Center in Texas City before buying his practice located on the seawall in Galveston, Texas.
Since starting at Shoreline Family Dentistry in 2000, he has watched his practice grow with not only native Galvestonians but patients from the surrounding areas of Texas City, League City, Clear Lake and Houston.
Dr. Blankenship obtained orthodontics training from the International Association for Orthodontics as well as specialized training in Invisalign. He is a member of the American Dental Association, Texas Dental Association, 9th District Dental Society and Academy of General Dentistry.
Dr. Blankenship believes strongly in the value of continuing education. He and his team attend classes regularly so they can provide the latest techniques and technology for their patients.
Dr. Blankenship has one son, Austin, that is currently attending college in College Station, Texas. In his spare time, Dr. Blankenship enjoys fishing and can occasionally be seen wade fishing in the waters directly in front of his dental practice.
---
Our Dental Staff:
Laurie - Dental Hygienist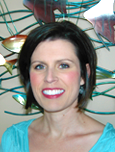 Laurie has been in the dental field for 11 years. She loves meeting new people and learns so much from her patients. She takes pride in staying current with the latest continuing education in her field. She is dedicated to providing the best care for her patients. Laurie likes to individualize the care that she gives and provide gentle treatment to her patients. She is a member of the American Dental Hygienists' Association & Texas Dental Hygienists' Association.
Laurie grew up in Oklahoma where she graduated from the University of Oklahoma with a Bachelors in Dental Hygiene. She has been married to her husband, Matt, for 11 years and has 2 boys, Dylan & Gavin. The family has 2 dogs, Elvis & Abby. Laurie enjoys spending time with her family every chance she gets. She is involved in her church and also loves working out and scrapbooking.
Susan - Dental Hygienist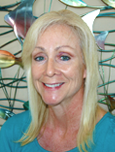 An 1983 graduate with a Bachelors in Dental Hygiene from Howard University, Washington, D.C., Susan's goal is to always make her patients feel welcome and comfortable while giving gentle dental care. She is an Alumnae member of the National Dental Hygiene Honor Society. She states it has been a pleasure working with Dr. Blankenship for the last 12 years, a dentist who gives quality, gentle care.
Susan resides in Friendswood with her husband of 29 years, Bill, and their 2 dog children, Wonder & Gabby. In her spare time, Susan enjoys reading.
Jennifer - Dental Assistant
Originally from Honduras, she graduated from Galveston College as a Registered Dental Assistant. She joined Dr. Blankenship's team 5 years ago. Jenn is a talented dental assistant who makes all of our patients feel comfortable. She has great technical skills and being bilingual makes her very valuable to the patients.
Jenn is married and has two beautiful daughters, Maritchie and Miliani. In her spare time, she loves staying active - jogging, volleyball, soccer and dancing as well as shopping.
Yvonne - Dental Assistant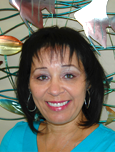 Yvonne has been in the dental field for 32 years and has been at Shoreline Dentistry for 15 years. She is a Registered Dental Assistant and Radiology Safety Officer. She assists Dr. Blankenship with everything from x-rays to root canals. She finds that helping patients improve their smiles is very rewarding. She is friendly and always has a smile to help others feel at ease.
Yvonne is a single mom with two adult children, Eric & Kristen. She is also the very proud grandmother of Alexa & Rylan. In her spare time, she likes riding motorcycles, zumba and spending time with friends and family.
Marie - Office Administrator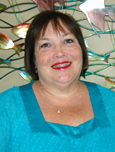 Marie got her start in dentistry 32 years ago as an Assistant. She came to Shoreline Dentistry in 1999, and knew she had found her home! After 4 years, she made the transition to the front office. She will help you with scheduling your appointments, understanding your insurance, and processing your payments. She values being part of a team that cares about providing a positive dental experience for all patients.
On her days off, Marie enjoys time with her husband John, their 3 children and 2 grandchildren.
Lisa - Office Administrator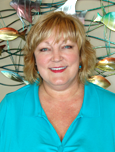 Lisa has worked in the dental field for over 30 years and has experience in different areas such as, assisting and orthodontics. Lisa has worked at Shoreline Dentistry since 1994, helping patients with their financial needs and filing their insurance to make sure they get the benefits they deserve.
She loves working in Galveston because of the relaxed environment. Lisa has been happily married to Tom for over 25 years and enjoys fishing and spending time with their granddaughters.
Stephanie - Marketing Manager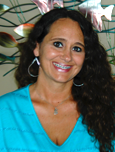 Stephanie is a graduate of the University of Houston with a Bachelor of Science degree in Psychology. She worked in both the Mental Health and Education field before coming on board with Shoreline Dentistry in 2009. Stephanie & Dr. Blankenship met while attending college at Lamar University in 1988. Stephanie is responsible for all advertising and marketing, as well as occasionally helping out with office administration duties.
Stephanie has 3 children, a son, Dillan, who attends college at the University of Houston majoring in pre-dental studies; a daughter, Dakotah and son, Drayden.
Stephanie enjoys listening to Dakotah play guitar and attending Drayden's sporting events. She loves to travel, work out, and spend time with the ones she loves.
Andy - Dental Lab Technician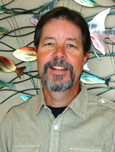 Andy has worked for Shoreline Family Dentistry for over 10 years as a Dental Lab technician, since 2002. He trained as a lab tech in the U.S. Air Force in 1986 and earned his CDT (Certified Dental Technician) license in 2000, specializing in ceramics.
Andy is extremely skilled and knowledgeable at what he does. His talents allow us to serve our patients with higher quality dental restorations much more quickly. He and Dr. Blankenship communicate in depth about each dental restoration that is made and the results are phenomenal. Our team enjoys working with Andy because of how friendly and caring he is. We also think his skills are pretty amazing ;)

...or fill in the form on our Appointments page: