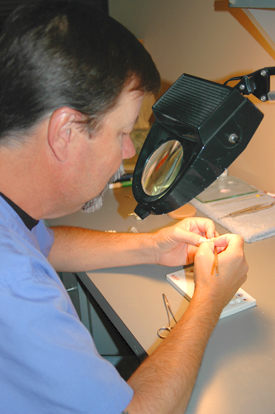 Having an in office dental lab allows us to provide higher quality dentistry much more quickly. Traditional dental offices will send off their dental restorations, such as crowns and dentures, to a dental lab in another location. The shipping time, as well as the lack of communication between the dentist and the lab technician make the process longer, as well as leaves room for issues with the restorations.
Meet our lab technician, Andy!
Andy has worked for Shoreline Family Dentistry for over 10 years, since 2002. He trained as a lab tech in the U.S. Air Force in 1986 and earned his CDT (Certified Dental Technician) license in 2000, specializing in ceramics.
Andy is extremely skilled and knowledgeable at what he does. His talents allow us to serve our patients with higher quality dental restorations much more quickly. He and Dr. Blankenship communicate in depth about each dental restoration that is made and the results are phenomenal. Our team enjoys working with Andy because of how friendly and caring he is. We also think his skills are pretty amazing ;)
If you are in need of a dental crown, inlays, onlays, dentures, partial dentures, bridges, veneers, or any other dental restoration. Please call us to schedule your next dental appointment at 409-762-4488. Thank you for visiting us!

...or fill in the form on our Appointments page: