Dental Insurance Plans We Accept
We accept most dental insurance plans, but are in-network with the plans listed below. If your dental insurance is not listed here, chances are we will accept it, we might just be out of network. Please be sure to call us if you have any questions regarding dental insurance and the plan that you carry.
Delta Dental Premier Provider
Cigna PPO
Texas Municipal League (TML)
Guardian PPO
Please note: We do not accept Medicaid or CHIP. However, we do accept cash and the insurance listed above. If you have any questions regarding your insurance options, call 409-762-4488.
Dental Patient Financing
Convenient, High Acceptance Payment Options
These convenient payment options have high acceptance rates. We understand that there are times when you may not have enough money, or you might just want to keep your cash for something else. That's why we offer payment plans that are easy and affordable. Please call us at 409-762-4488 with any questions that you might have regarding patient financing and payment plans.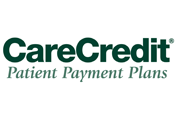 Care Credit is the preferred financing source for patients because of the special rates that patients get every time they finance their dental work. Upon being approved for care credit, you will be able to take advantage of a "no teaser rates, no introductory rates, no application fees, and no pre-payment penalties" way to pay for your dental procedure. Call 409-762-4488 for more details.

...or fill in the form on our Appointments page: